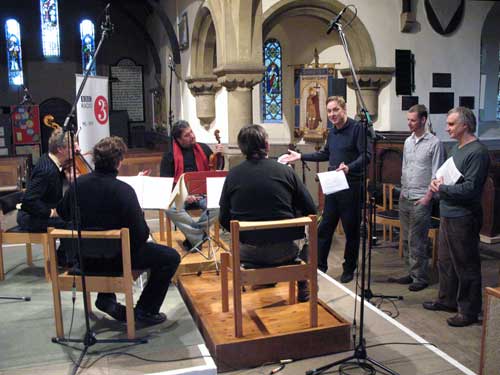 BBC Radio 3 broadcasting from St Oswalds
St. Oswald's Church in Sowerby has been Sowerby Music's performance venue since the society started in 1987.
Whilst quite a small church, it has many excellent qualities and its facilities, along those added by Sowerby Music, make it very suitable for small-scale music events.
St. Oswald's is essentially an attractive Victorian Church with a nave, a single side aisle and two transepts. Parts of the church are much older and one door in particular is Norman dating back to 1140. Alterations were made in the 1980s which removed the traditionally placed choir stalls and replaced them with a moveable altar table and communion rails on a raised solid platform under the tower at the intersection of the nave and the transepts.
The central raised platform makes a very good performance area and the church acoustic is ideal for audiences and performers alike.
St. Oswald's church has a good, recently renovated, two manual pipe organ, an adequate heating system (supplemented for mid-winter concerts by a big space heater), a toilet and a vestry for performers to use as a changing room. Regular concert-goers arm themselves with a cushion for comfort in the church pews.
For most chamber concerts, the practical maximum audience size is 180.
One of the biggest attractions for both performers and audiences is Sowerby Music's Steinway Model B piano. Dating from 1971, the piano was purchased in 2003 from the Royal Northern College of Music. Following a small amount of renovation to the action and to the case it is now highly regarded and acknowledged as one of the best pianos in North Yorkshire.
Finding Sowerby Music
St Oswald's own website