Concerts and other events
2018–2019 season
Welcome to this, our 32nd year of inspiring live performance in Sowerby. We offer up another year of mouth-watering concerts – albeit slightly fewer than usual – but as varied as usual and catering for all tastes.
Join the free mailing list

Concerts Secretary
Concerts start at 7.30pm (unless shown below) in St. Oswald's Church, Sowerby, Thirsk, North Yorkshire, UK (directions). For more information on the artists and content of each programme please telephone Graham Merriam on 01845 597058 or 07899 746385 or email
Ticket prices shown are for advance booking. – More
The mailing list brings you details and reminders by post or email – More
Everyone is welcome – you may be new to Sowerby Music and maybe also to classical music.
Young listeners – we hope to encourage as many students and children as possible to attend our concerts by offering them FREE admission (18 and under) as long as they are accompanied by an adult.
Get concert tickets in person at Thirsk bookshops, by mail from Peter Rush or buy on line. Most concerts are cheaper in advance, but usually there are still some tickets for sale at the door on the night.
.
£19.00 on the door Buy now — £18.00
Voces8 in Concert
Internationally acclaimed a cappella ensemble. The very best around.
Sunday 9 June, 3.00pm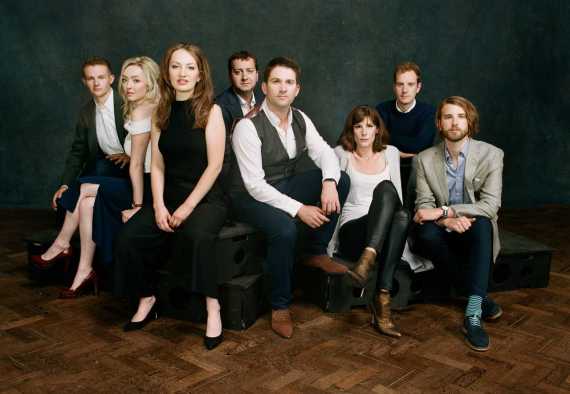 VOCES8
From 4.00pm on Saturday 8th June, there will be a "Come and Sing" with Voces8 for all abilities and ages. This is a marvellous opportunity to come and sing with this internationally-acclaimed ensemble. You will explore their training method, sing in parts and discover the joy and emotional power of singing in a big group - the bigger the better. You don't need to have sung before, there will be no music to read; all we want is YOU and a commitment to get stuck in. What is more, it is FREE with a bucket collection at the end. The session will contain a break for some refreshment and nibbles and will finish with a 15 minute recital from Voces8 - a sneak preview for the following afternoon's concert. The event will be finished by 6.30-6.45. PLEASE COME - NO NEED TO BOOK. Children are especially welcome.
The press says:
"The singing of VOCES8 is impeccable in its quality of tone and balance. They bring a new dimension to the word 'ensemble' with meticulous timing and tuning." Gramophone
"Eight beautifully integrated solo voices... persuasive and committed singing." BBC Music Magazine Choral and Song Choice
"VOCES8 are undoubtedly gifted." The Times
With an on-going programme of recordings and live broadcasts, VOCES8 is heard regularly on international television and radio. The ensemble is a Decca Classics artist and has released acclaimed recordings that have been at the top of the classical charts. VOCES8 has premiered commissions from Roxanna Panufnik, Alexander Levine, Alec Roth, Ben Parry, Ola Gjeilo, Philip Stopford and Thomas Hewitt Jones. The group also performs bespoke arrangements written by Arranger in Residence, Jim Clements. The ensemble welcomed one of the most celebrated contemporary composers, Jonathan Dove, as Composer in Residence for two seasons from September 2017. As well as a commission planned for 2019 (Jonathan's 60th birthday year), the associateship will provide mentoring opportunities to emerging composers linked with the group's education programme
Their repertoire spans Byrd to Bieber, Beethoven to Brahms, BeBop and with the classiest arrangements imaginable.