Concerts and other events
2017–2018 season
Welcome to this, our 31st year of inspiring live performance in Sowerby. We offer up another year of mouth-watering concerts – albeit slightly fewer than usual – but as varied as usual and catering for all tastes.
Join the free mailing list

Concerts Secretary
Concerts start at 7.30pm (unless shown below) in St. Oswald's Church, Sowerby, Thirsk, North Yorkshire, UK (directions). For more information on the artists and content of each programme please telephone Graham Merriam on 01845 597058 or 07899 746385 or email
Ticket prices shown are for advance booking. – More
The mailing list brings you details and reminders by post or email – More
Everyone is welcome – you may be new to Sowerby Music and maybe also to classical music.
Young listeners – we hope to encourage as many students and children as possible to attend our concerts by offering them FREE admission (18 and under) as long as they are accompanied by an adult.
Get concert tickets in person at Thirsk bookshops, by mail from Peter Rush or buy on line. Most concerts are cheaper in advance, but usually there are still some tickets for sale at the door on the night.
.
£19.00 on the door Buy now — £18.00
The Sacconis and Friends
The Sacconi Quartet - Ben Hancox and Hannah Dawson, violins; Robin Ashwell, viola and Cara Berridge, cello with Robert Plane, clarinet and Alec Frank-Gemmill, Horn.
Friday 28 September, 7.30pm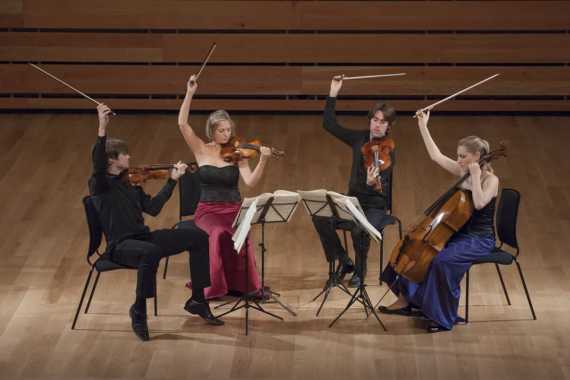 On Saturday 29 September, the Sacconi Quartet will lead an open rehearsal of a major chamber work. This will be followed by a public performance at 2.00pm and a selection of short movements from the chamber repertoire played by the Sacconis. During the morning rehearsal we are inviting artists to use the church as a studio to capture aspects of the music or players - an open studio. We hope to display the results at the public concert.
And here they are again with a luscious programme offering up new possibilities.
Mozart - Horn Quintet in Eflat, K407
Ireland - Sextet for Clarinet, Horn and String Quartet
Weber - Clarinet Quintet, Op.34
For those familiar with the Horn Concerti, this piece of Mozart makes similar demands on the player and has a darker tonality though the use of a second viola rather than the second violin. Einstein described the slow movement as a love-duet between the horn and strings. The final movement really stretches the capabilities of both the instrument and the player.
This early piece of Ireland's chamber music, dating from 1898, reflects his teacher Stanford's obsession with Brahms and, while it is by no means slavish, it displays a distinct Brahmsian feeling throughout.
Weber wrote his clarinet quintet between 1811 and 1815; as with his other clarinet compositions it was written for Heinrich Baermann, the pre-eminent German clarinettist of the day. A new instrument with new keys and greater possibilities enabled Weber to write for greater versatility and expression.
.
£11.00 on the door Buy now — £10.00
Angel Voices ever Singing
The RNCM Songsters under the direction of Professor Lynne Dawson
Friday 19 October, 7.30pm
Senior vocal students and a senior accompaniment student combine forces to present a feast of song - some secular, some liturgical.
.
£19.00 on the door Buy now — £18.00
Red Priest - The Baroque Bohemians
From Campsite to Court with Piers Adams recorders, Adam Summerhayes violin, Angela East cello and David Wright harpsichord
Friday 16 November, 7.30pm
Music by Vivaldi, Telemann, Handel, Biber, Byrd, Mielczewski and Hungarian folk melodies
The world-famous baroque quartet led by 'superhuman' recorder player Piers Adams and the devilish fiddler, Adam Summerhayes, transform into a wild 'baroque gypsy' band. They re-live the extraordinary virtuosity of early Bohemian Baroque masters, explore melodies from a 1730 Slovakian fiddler's tune-book, revel in the gypsy-influenced music of Telemann, and re-imagine music by Handel and the original Red Priest, Antonio Vivaldi – all in their own inimitable, high-octane style. Positively volcanic!
.
There is no charge
Annual General Meeting
The Society's chance to review the events of the previous year.
Saturday 8 December, 2.45pm
There will, of course, be drinks and nibbles and a short informal concert at 3.30pm - details to follow.
In addition to the review of the year to 31st August 2018, we shall look forward to plans for the future.
.
Romance on the Keys
Christian Sandrin, piano Supported by the Countess of Munster Recital Scheme.
Sunday 20 January, 3.00pm
A scrumptious feast of Schubert, Brahms and Schumann - ?Kreisleriana. This programme is subject to change.
.
£19.00 on the door Buy now — £18.00
A 12-stringed Celebration
The Katona Twins - Peter and Zoltan celebrate their 30th year performing as a duo
Saturday 13 April, 7.30pm
"The brilliant Katona Twins … Formidable virtuoso technique, their performances could hardly be bettered for charm, zest, wit and colouristic flair." - Daily Telegraph
.
£11.00 on the door Buy now — £10.00
Yorkshire and Humber's Finest
An update on the prodigious talent within the Yorkshire Young Musicians portfolio of highly talented students. Directed by Penny Stirling
Saturday 11 May, 7.30pm
.
£19.00 on the door Buy now — £18.00
Voces8 in Concert
Internationally acclaimed a cappella ensemble. The very best around.
Sunday 9 June, 4.00pm
From 4.30pm on Saturday 8th June, there will be a "Come and Sing" with Voces8 for all abilities and ages. This finish at 8.00pm with a bring-your-own meal in the middle. Nothing to rehearse beforehand, inability to sight-sing not a problem - just come! Voces8 will perform a short selection of pieces at the end.
The press says:
"The singing of VOCES8 is impeccable in its quality of tone and balance. They bring a new dimension to the word 'ensemble' with meticulous timing and tuning." Gramophone
"Eight beautifully integrated solo voices... persuasive and committed singing." BBC Music Magazine Choral and Song Choice
"VOCES8 are undoubtedly gifted." The Times
With an on-going programme of recordings and live broadcasts, VOCES8 is heard regularly on international television and radio. The ensemble is a Decca Classics artist and has released acclaimed recordings that have been at the top of the classical charts. VOCES8 has premiered commissions from Roxanna Panufnik, Alexander Levine, Alec Roth, Ben Parry, Ola Gjeilo, Philip Stopford and Thomas Hewitt Jones. The group also performs bespoke arrangements written by Arranger in Residence, Jim Clements. The ensemble welcomed one of the most celebrated contemporary composers, Jonathan Dove, as Composer in Residence for two seasons from September 2017. As well as a commission planned for 2019 (Jonathan's 60th birthday year), the associateship will provide mentoring opportunities to emerging composers linked with the group's education programme
Their repertoire spans Byrd to Bieber, Beethoven to Brahms, BeBop and with the classiest arrangements imaginable