Peter Chase award winners
We currently have these recipients of The Peter Chase Award
Jonathan Parkin guitar at Trinity Laban Conservatoire of Music and Dance, Greenwich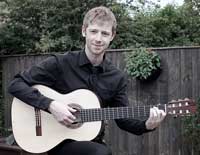 June 2016 Jonathan Parkin writes "My first year of my masters at Trinity Laban has been very rewarding indeed.
"I have been involved in many forming and performing recitals with many ensembles within the last year including a guitar and voice duo with the Glyndebourne opera singer Tom Smith and a guitar duo specialising in South American Music with the Uruguayan guitarist Ignacio Barcio. I have also begun a guitar trio called the 'What Guitar Trio' which specifies in performing and commissioning new and contemporary music written for guitar trio. My work with other musicians has led me to be involved with performances at the Royal College of Music as well concert tours across the country.
"As well as performing regularly up and down the country, I have also been working extremely hard to improve my solo playing by selecting very challenging works such as Antonio Jose's 'Sonata', Salvador Broton's 'Dues Suggestions' and J.S.Bach's 'Prelude Fugue and Allegro BWV 998', the latter of which I performed at the 2015 International Guitar Festival at Kings Place and the 2015 Greenwich Early Music Festival. I have also collaborated with composer Alex Corlett to organise a concert where I gave world and London premieres of his two of his works for guitar (one of which specifically written for me). Through that concert I have commissioned the composition tutor at the Royal Welsh College of Music and Drama Dr Robert Spearing to write me a solo guitar work."
"As well as this, within the past year I came highly commended in the Alison Stephens Plucked String Competition and won 1st prize in both the John Mills Guitar Prize and the Trinity Historically Informed Performance Competition.
"Looking forward to the Summer I will be performing for the London Catalan Festival, The Barnard Castle International Guitar Festival & The Greenwich Guitar Festival. I am also going to be entering the 2016 Tarréga International Guitar Competition in Benicassím in Spain to try my hand at competting with some of the finest guitarists in the world.
"All of the above would not have been possible without the support given to my by the Peter Chase award and I am constantly thankful for the help and support that has been given to me."
Alasdair Simpson bass guitar at the Royal Northern College of Music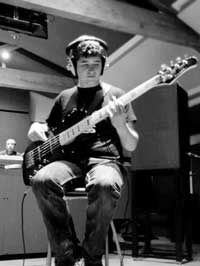 September 2014 Alasdair Simpson writes "I'll start by saying that I have a blog which I have been updating fairly regularly over the past year and a half which you can find HERE for more detail, but over the past year or so I have enjoyed working with a variety of different ensembles at the RNCM and beyond.
"These ensembles include the Royal Northern College of Music Session Orchestra, a project that combines both the Classical and Popular Music Performance Programmes at the RNCM. With this project I performed in the RNCM Theatre on two occasions, at Media City at Salford Quays and at the Royal Albert Hall as part of the Music For Youth Festival. With this band I played Bass Guitar and Electric Double Bass, but I was also heavily involved in the arranging process. To date, I have arranged 15 songs for the ensemble including music by Stevie Wonder, Jamiroquai, Jocelyn Brown and many more. I should also mention that for two out of three of the concerts this year fellow Sowerby Musician Oliver Bailey was a part of the ensemble. I have worked with him on a few occasions in my short time at the college. I shall include a video of a song that I arranged for the Session Orchestra concert that we did in April.
"At this point, I'd like to thank you for the grant that I received and I'll tell you what I put it towards. I used the money to help me buy my 15" Apple MacBook Pro laptop computer, which I used to complete the arrangements that I did for the Session Orchestra. I have also used my laptop to record music, and perform music in a live environment. All in all, it has really furthered my work and study in Manchester."
"Another project that I've been involved with is a party band based in Selby, The Spinoffs; I play Bass Guitar and sing in the band. We have been playing all over the country at Holiday Camps and other live music venues. The band is working hard to get a reputation for being professional, hard working and extremely energetic. I have enjoyed gigging as far north as Scotland and as far south as Cornwall with this band throughout 2014.
"On top of these two projects, I have performed at RNCM as part of the RNCM Big Band and the RNCM Brand New Orchestra, bringing Bass Guitar into these two groups for the first time at the college. I have enjoyed performances with my course mates at Band on the Wall and Revolution in Manchester as part of the RNCM Live Sessions Series. I have also worked with a variety of Pop / Rock Bands, Jazz Bands, Pit Bands for local Amateur Dramatics Societies in Manchester and across the North of England.
"In a different format, I have enjoyed performing with a New Orleans Brass Band called the New York Brass Band. I played Drums for the band at a concert in Glasgow and at Glastonbury Music Festival in June. We enjoyed a fun and eventful first trip to the festival with a view to being invited back in the future – fingers crossed.
"Looking to the future, I have been offered the opportunity to go to China in November with 4 other people from my course to promote the RNCM Popular Music Performance degree. In China, we will perform and workshop music for younger music students in the hope that we can bring people to the UK to study at the conservatoire. I was offered this opportunity following outstanding performance in my first two years at the college to obtain a first. I hope that my performance in the last two years will mean that as I move into my third and final year at the college I can hope to leave with a First Class degree to move forwards in the world of music.
"I hope that this has all been informative. As you can see it has been an action packed year, with a view to the future being as exciting. To keep tabs on me, I have a WEBSITE and I have my BLOG."
Oliver Baily violin at the Royal Northern College of Music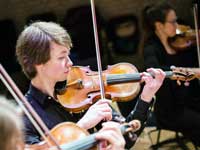 Oliver Baily was born in April 1994, attended Bootham School in York and has lived in Thirsk since 2000. He is currently in his third year of a four year BMus(Hons) in Performance course at the Royal Northern College of Music studying violin. Whilst at school Oliver played in all the major string ensembles, with Yorchestra – York's holiday orchestra – and with Pro Corda North where he led the orchestra as well as playing in the string quartet. Although in Manchester during term time, he still plays locally on a regular basis – with York Young Soloists, St Cecilia Orchestra, Mowbray Ensemble and the Vacation Chamber Orchestra.
July 2015 Oliver writes: "In my third year at the RNCM I reached the final of the Helen Porterhouse Paganini Prize, performing caprices 16 and 20 as well as the Elgar Violin Sonata. I have been fortunate to play in classes given by Sofia Jaffé, Alina Pogostkina and James Clark, and my main focus has been on learning the Barber Violin Concerto, which I performed in my end of year recital."
"It has been a very exciting year for my String Quartet. At the start of my third year we participated in a workshop given by Sir Peter Maxwell Davies in which we studied his third Quartet. We were also asked to play in the RNCM Chamber Music Festival in January, playing Dvorák's String Quartet no.11, and in the same term we reached the final of the RNCM Nossek Prize. In May we were thrilled to take part in the Salisbury International Arts Festival. Over the course of a weekend we benefitted from a masterclass with the Sacconi Quartet, gave a lunchtime recital and also a masterclass to talented children from across Wiltshire. Throughout the year we have studied with world class chamber musicians such as Frans Helmerson, Levon Chilingirian, Petr Prause and the late Peter Cropper.
"Highlights of my orchestral playing this year have included an unforgettable performance of Mahler 2 in the newly refurbished RNCM concert hall under the direction of Jac van Steen, as well as two performances of Schoenberg's beautiful "Verklärte Nacht" for String Orchestra with Henk Guittart.
"In July 2015 I have been invited to play with the Malta Philharmonic Orchestra, and lead classes working with young musicians from the country as part of the Malta Arts Festival.
"My sincere thanks, as ever, to Sowerby Music and the Peter Chase Award Committee for their continued and much valued support."
Robert Bark saxophone at Birmingham Conservatoire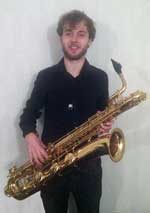 Robert Bark from Sowerby was born in September 1993 and attended Thirsk School and Sixth Form College. He is to study classical saxophone at Birmingham Conservatoire. His extensive ensemble experience includes The National Youth Wind Ensemble, the Doncaster Youth Swing Orchestra, the North East Regional Jazz Band and the Harrogate Youth Jazz Orchestra. His Peter Chase Award money will help towards the purchase of a concert quality instrument.
December 2015 Robert writes:"In September I went on the Erasmus exchange to Brussels for three months where I studied under Norbert Nozy and Koen Dries. While over there I was part of the saxophone ensemble, which was a joint project with Brussels and Maastricht Conservatoires. I played the bass saxophone in the ensemble, which was really good fun, as I had never had the opportunity to play one before. The ensemble played concerts at the Brussels instrument museum, Maastricht Conservatoire and Nancy in France to mark 150 years since the saxophones' invention. During my time abroad I went to see the Amsterdam saxophone festival, where I saw Norbert Nozy conduct concertos played by international saxophonists Otis Murphy and Claude Delangle. My time studying in Belgium was really beneficial, as I learnt a lot about saxophone technique, especially playing in the altissimo register, and ensemble playing whilst I was there."
"When I returned to Birmingham Conservatoire I played in masterclasses with Lynn Klock, Lars Mlekusch and Kyle Horch. The Birmingham Conservatoire Saxophone Ensemble did a couple of concerts, one in Birmingham, playing early saxophone repertoire to mark the saxophone's 150th anniversary, and one in Stafford. I also carried on as part of the Conservatoire Folk Ensemble, which played ten gigs over the summer, including three festivals. We will also be playing at the Royal Albert Hall in November as part of the youth proms.
"This year I have already played in the Birmingham Conservatoire Cuban day with my quartet and I have helped out during the first ever Birmingham Conservatoire Saxophone Day. As part of my final year I will be making a CD of recordings of works and arrangements I have made for chamber ensembles that prominently feature the saxophone. My quartet will be playing in an ABRSM high achievers concert next month as an example of the standard of playing at Conservatoires and hopefully inspire the children to study music. We are currently putting music together and setting up a website to market ourselves as a wedding quartet. I have also formed a saxophone duo for a module that will help us acquire the necessary skills to play concerts in care homes and hospitals. I have joined the newly formed Black Pear Wind Band from Worcester and will be performing at a festival next month.
"Over the past year I have used my new baritone saxophone in a lot of the ensembles I have played in. It has helped me develop my breathing in general, because I need so much more air to play it. I am incredibly grateful for the money that has been given by Sowerby Music to help me buy it. "
Louis Baily cello Guildhall School of Music & Drama (GSMD)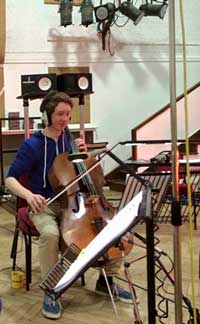 Louis Baily was born in 1996, attended Bootham School in York and has lived in Thirsk since 2000. He is currently in his first year of a four year BMus (Hons) in Performance course at the Guildhall School of Music & Drama studying 'Cello with Tim Lowe. Whilst at school Louis played in all the major string ensembles, with Yorchestra – York's holiday orchestra – and regularly attended Pro Corda North and Pro Corda Seniors courses, where he played a variety of chamber music. Although in London during term time, he still plays locally on a regular basis – with York Young Soloists, St. Cecilia Orchestra, and the Vacation Chamber Orchestra.
July 2015 Louis writes: "My first year at the GSMD has been a very new and challenging experience. The large majority of this year has been focussed on detailed technical work in my playing, with technical assessments being part of both the mid-year and end-of-year practical exams. Next year I am hoping to start expanding my repertoire and look to become a more complete player."
"In February my quartet was invited to Abbey Road Studios with the Music Technology students of York St. John University to record Ben Burrow's new composition, written to accompany Alfred Hitchcock's silent film, 'The Lodger'. This gave us an insight into how a professional recording would be carried out and the challenges that present themselves in this kind of situation.
"Highlights of my orchestral training this year include playing in the pit orchestra for the Guildhall's production of 'Guys and Dolls' giving me the chance to perform music of a very different style/genre to that I would normally be used to playing, as well as being able to interact with the singers and actors in the school. Another enjoyable experience was the GSMD induction concert in which I was part of the chorus for Verdi's 'Requiem' which we performed in the Barbican Hall.
"Throughout the year I have been lucky enough to attend concerts and classes given by musicians such as Maxim Vengerov, Steven Isserlis, Levon Chilingirian, Alisa Weilerstein, Gautier Capuҫon, Lawrence Power, James Ehnes, the Takacs quartet, Emerson Quartet, Heath Quartet and Elias Quartet, as well as participating in coaching and masterclasses given by Adrian Brendel, Andrew Garfield, Ralph de Souza, Stephen Orton, Corina Belcea, Carole Presland, Krzysztof Smietana, Matthew Jones and Alasdair Tait.
"My sincere thanks go to Sowerby Music and the Peter Chase Award Committee for their invaluable support."